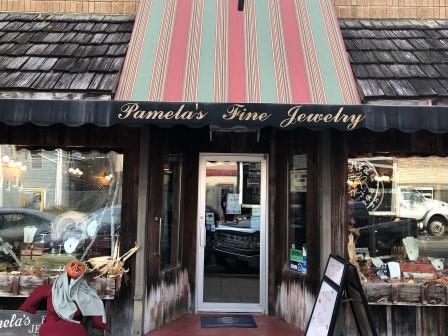 On May 1, 1980, Pamela and Samir Chehade purchased the current building to operate Chehade Imports
International, a wholesale jewelry business. The back entrance of the building was used as a pizza and
sandwich establishment called Pizza Alley. In 1986, Pamela became sole owner and started a joint venture
called Marie's Teeter Toddlers, a retail children's clothing store. One half of the store was used as the
children's store, the other half was used as a retail jewelry store.
Currently the building is owned and operated by Pamela Chehade as Pamela's Fine Jewelry, a retail
jewelry store with on premise design and repair shop. Along with that, Pamela operates Dream Day
Essentials, a business that focuses on wedding planning and tuxedo rentals.
To learn more about Pamela, the store, or what we can do for you, stop in the store! We would love to
meet you!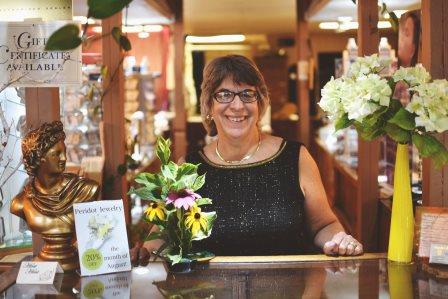 Pamela -
Owner & Jeweler
Pamela began in the jewelry business when she was 18 years old. When she returned back to the United
States after living in Columbia, she begain importing emeralds from Columbia and South America. She
opened the jewelry store in 1980. Pamela attended the Paul Ruppenthal School of Jewelry Manufacturing
and Gem Identification in Germany, and has studied with Master Jewelers. She has also attended classes
in the latest jewelry design, pearl classication and stringing, setting techniques, display and fashion.

Pamela was born and raised in Plain, the proud daughter of Jim & Marie Neider. She is a graduate of River
Valley High School and later returned to college as a single mother, graduating in 2000 from UW-Platteville
in Business Administration. Pamela has one daughter, Lea Chehade-Taylor, whom is also in the jewelry
business and can still be found at the store helping out from time to time. Her daughter has been one of
the best assets in keeping Pamela's growing with fresh new ideas and the latest fashion jewelry pieces.

Pamela started in the wedding business with Dream Day Essentials when the local men's store, Hottmann's
Clothing store, closed. It has been an amazing addition to Pamela's Fine Jewelry as Pamela enjoys
helping to plan a wedding just as much as she loves designing and making a new piece of jewelry.
Pamela has expanded the service to renting and altering tuxedos, wedding invitations, stationary, attendant
gifts, and design jewelry for the wedding party.

Pamela is also a big believer in giving back to the community that she loves and lives in. She has been a
member of the Spring Green Area Chamber of Commerce, and has held many board and committee
positions to help keep Spring Green businesses vital. Pamela is also the first female member of the
Spring Green Lions Club and works with Sister City Student Exchange Program with Rivas, Nicaragua. This
way she gets a chance to use her Spanish and help both communities. She has the best customers a
business owner could want! Being in Spring Green is a joy. Providing her customers with the best she can
offer today and in the future, will always be her goal.